Our Work
OUR WORK
Getting people outside is important work, and the spaces that we shape go on to shape us.
We believe that in Buffalo Bayou, we should see an authentic reflection of the people and potential along its banks. Our commitment is to create places we can take pleasure and pride in, feel welcome and safe, and embody the ideas and interests of all those they serve. Our work aims to affect positive social, economic, and environmental change.
WE Believe public spaces are essential to the vitality and resiliency of cities.
WE Believe Buffalo Bayou and its surrounding landscapes, which are ecologically important and vulnerable, should be protected and maintained.
WE Believe all people should have equitable access to vibrant, safe, and inclusive spaces.
WE Believe people's lives are enriched when they have individual and shared experiences outdoors.
For more than 30 years, Buffalo Bayou Partnership has been leading the transformation, activation, and ongoing stewardship of Buffalo Bayou.
Buffalo Bayou and Beyond, the organization's visionary master plan issued in 2002, has been our guide in creating and stewarding projects that serve multiple purposes — recreation, flood management, and ecosystem restoration. With our most recent planning effort, the Buffalo Bayou East Master Plan, we will continue delivering spaces that are not just used but informed by the public.
Ongoing Programs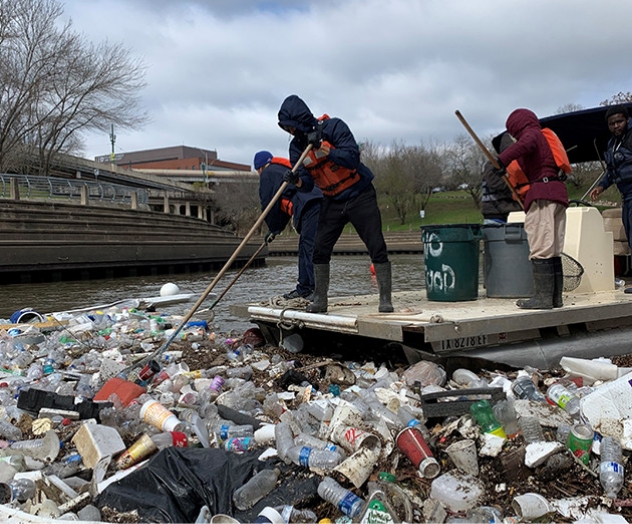 Waterway Cleanup
Waterway Cleanup
BBP's Clean & Green Program is critical to protecting Buffalo Bayou and its surrounding landscapes, which are ecologically important and vulnerable. Each year, our team removes thousands of cubic yards of trash and debris from the waterway.
Conservation & Maintenance
Conservation & Maintenance
Providing exceptional care of the parks and trails developed by our organization, including Buffalo Bayou Park, is one of BBP's most important responsibilities. Our conservation work is focused on maintaining native landscaping and healthy habitats for the wildlife that calls Buffalo Bayou home.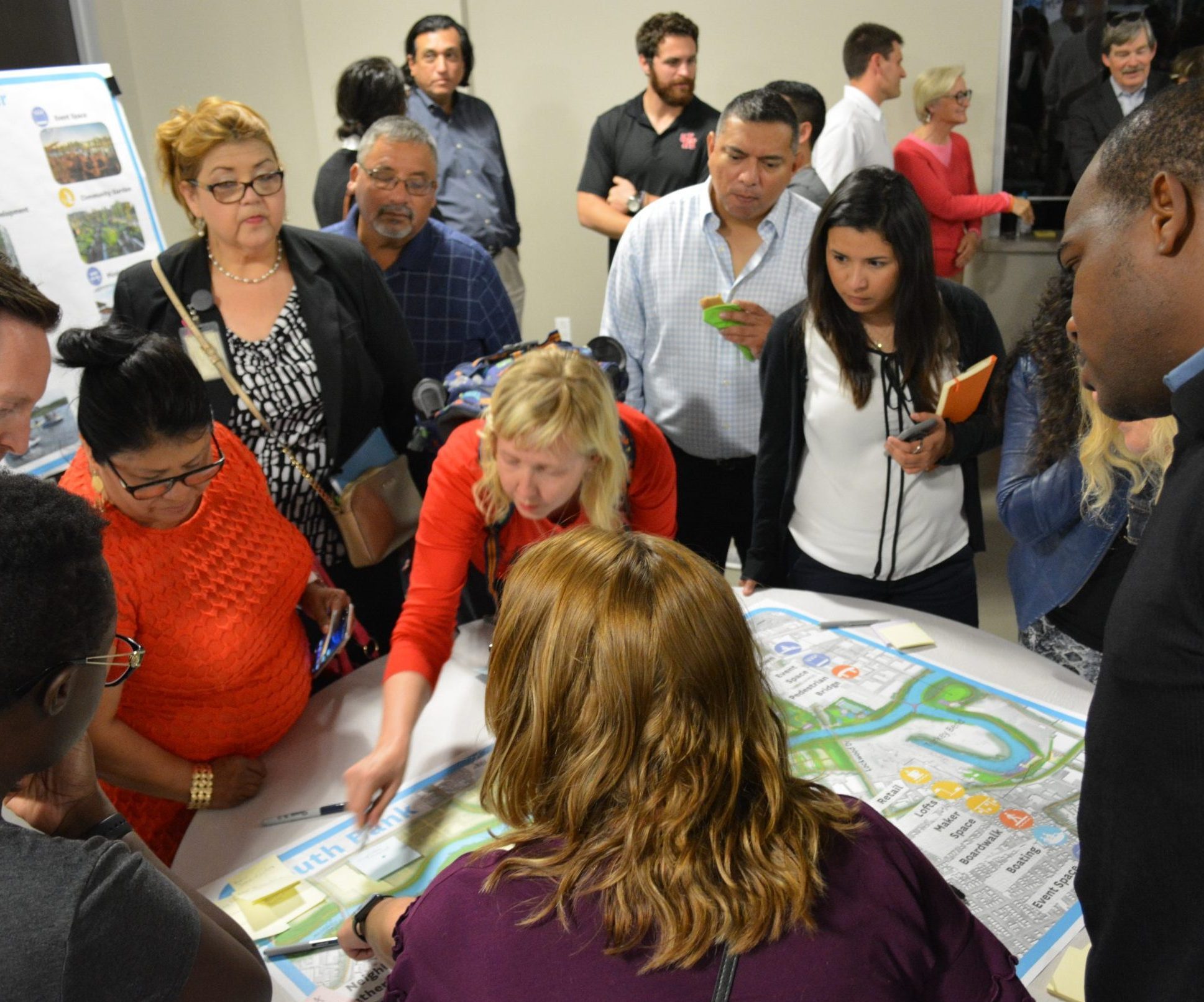 Diversity Equity Inclusion and Access
Diversity Equity Inclusion and Access
BBP is intentional about reinforcing diversity, equity, inclusion, and access (DEIA) throughout our organization and our work. For DEIA to be embedded in the DNA of BBP, we are creating a diverse and inclusive staff and board, offering culturally resonant programming and amenities, addressing exclusionary policies and patterns, and working to ensure legacy residents can remain in the neighborhoods surrounding Buffalo Bayou. DEIA is central to our vision of a Buffalo Bayou that is accessible to all.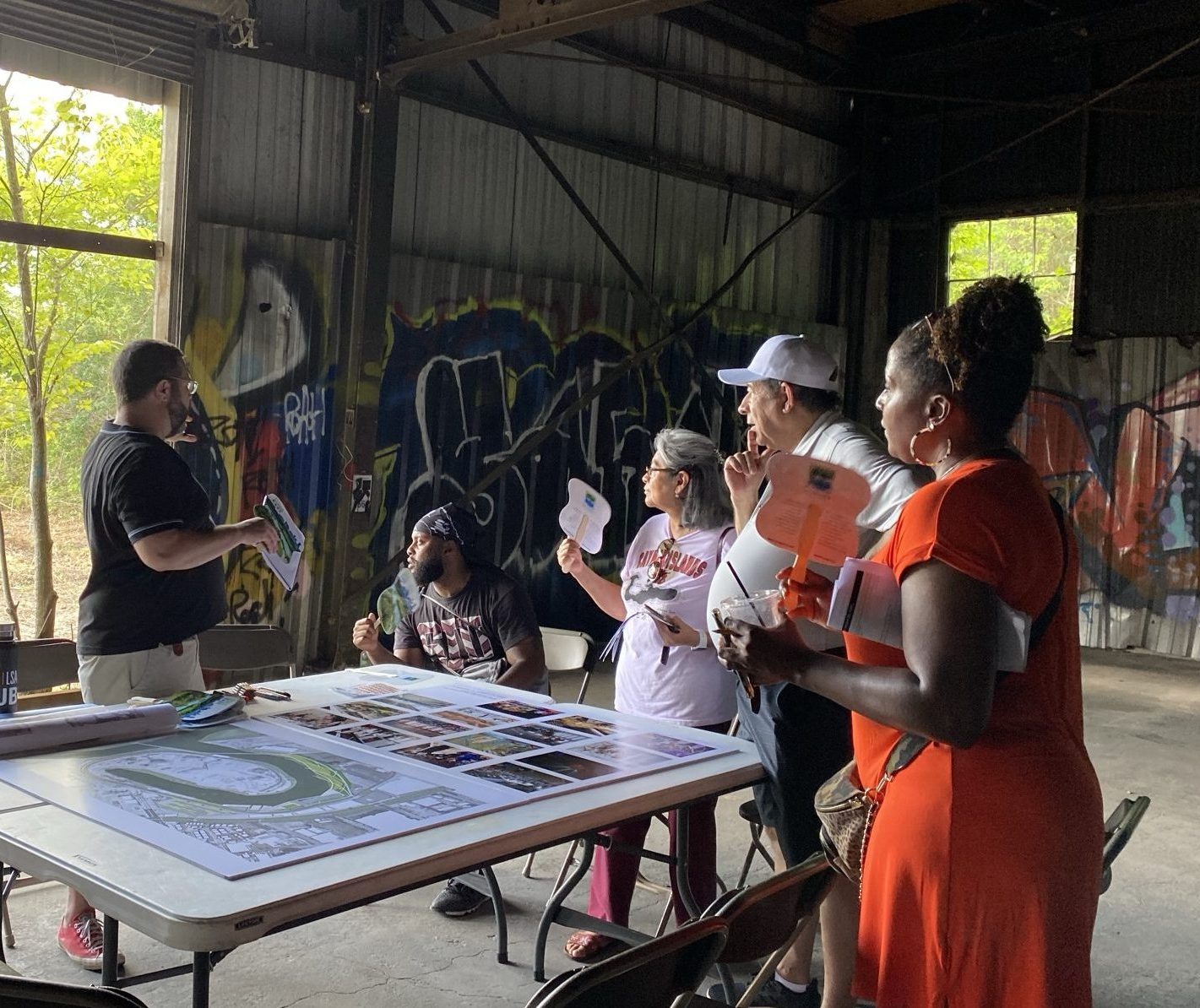 Community Engagement
Community Engagement
Our organization is committed to working together with the communities we serve. From the multiple years of meetings to receive input on the Buffalo Bayou East Master Plan to the ongoing programs that reflect and engage diverse populations along the bayou, community is at the heart of what we do. Our full-time Community Engagement Manager demonstrates daily our organization's dedication to listening, learning, and applying our lessons to the spaces we shape.
2022
Announced public-private partnership anchored by $100 million gift from the Kinder Foundation to realize Buffalo Bayou East Master Plan
Groundbreaking for Lockwood on Buffalo Bayou (Phase I)
2021
Hosted Anri Sala Time No Longer installation in the Cistern
Completed downtown trail link
2020
Received more than $17 million in grant funding to accelerate implementation of the Buffalo Bayou East Master Plan
2019
Launched the Buffalo Bayou East Master Plan
2018
Second site-specific art installation opened in the Cistern
2017
Published the commemorative book, From Rendering to Reality: The Story of Buffalo Bayou Park
Joined the High Line Network as a founding member organization
Selected Buffalo Bayou East Master Plan consultant team and continued planning effort
Began large-scale clean up after Hurricane Harvey
2016
Restoration of historic Sunset Coffee Building completed
TIGER trail completed
Buffalo Bayou Park Cistern opened to the public in May, and BBP launched the inaugural art installation in the space in December
Completed Yolanda Black Navarro Buffalo Bend Nature Park
2015
Completed and assumed full-scale maintenance and operation of Buffalo Bayou Park
Began Phase II of Buffalo Bend Nature Park
Co-sponsored Livable Centers study in the Fifth and Second Wards
2014
Assumed maintenance and operation of Buffalo Bayou Park Phase I
Began Sunset Coffee Building restoration at Allen's Landing
Began TIGER Trail construction (Franklin to Milam Streets)
2013
Awarded Houston-Galveston Area Council Livable Centers Study Grant in partnership with Fifth Ward Community Redevelopment Corporation and Greater East End Management District
Completed construction of Buffalo Bayou Park Phase I
Launched Buffalo Bayou mobile application
Set attendance and fundraising records at Buffalo Bayou Ball, Buffalo Bayou Regatta and Bayou Bash
2012
Began Buffalo Bayou Park construction
2011
Additional Commerce Street land purchased for future flood management project
Buffalo Bayou Park Master Plan completed
Tri-Party agreement for Buffalo Bayou Park approved by Houston City Council and Harris County Commissioners Court
Second Commerce Street land purchased for future flood management project
Sandy Reed Memorial Trail reconstruction begins
2010
Kinder Foundation awarded catalyst $30 million gift for Buffalo Bayou Park—Shepherd to Sabine
Texas Parks & Wildlife Department grant awarded for Buffalo Bend Nature Park Phase II
Allen's Landing trail extension to Milam Street completed
Tapley Tributary enhancements completed
First Commerce Street land purchased for future flood management project
2009
Buffalo Bend Nature Park Phase I completed
2007
Clean & Green bayou cleanup program began
2006
Sabine Promenade completed
Began Adopt-a-Spot program
Hosted the first Kids Day on Buffalo Bayou
2005
Began Pontoon tour boat operation
Launched "Best of Buffalo Bayou" tour series (bat tours, history tours, birding and kayak tours)
First Buffalo Bayou Ball held
2004
Land for Buffalo Bend Nature Park acquired
2003
Began East End trail construction
Bayou Buddies young professionals group founded
2002
Buffalo Bayou and Beyond Master Plan completed
Allen's Landing Sunset Coffee Building acquired
Skimmer Boat clean-up program begins
2001
Land acquisition program begins
Allen's Landing Phase II completed
Downtown Sesquicentennial Park to UH-Downtown trail completed
1998
Sesquicentennial Park Phase II completed
1997
Allen's Landing Phase I completed
1995
First BBP Executive Director hired
1988
Sesquicentennial Park Phase I completed
1986
Buffalo Bayou Partnership founded under Central Houston