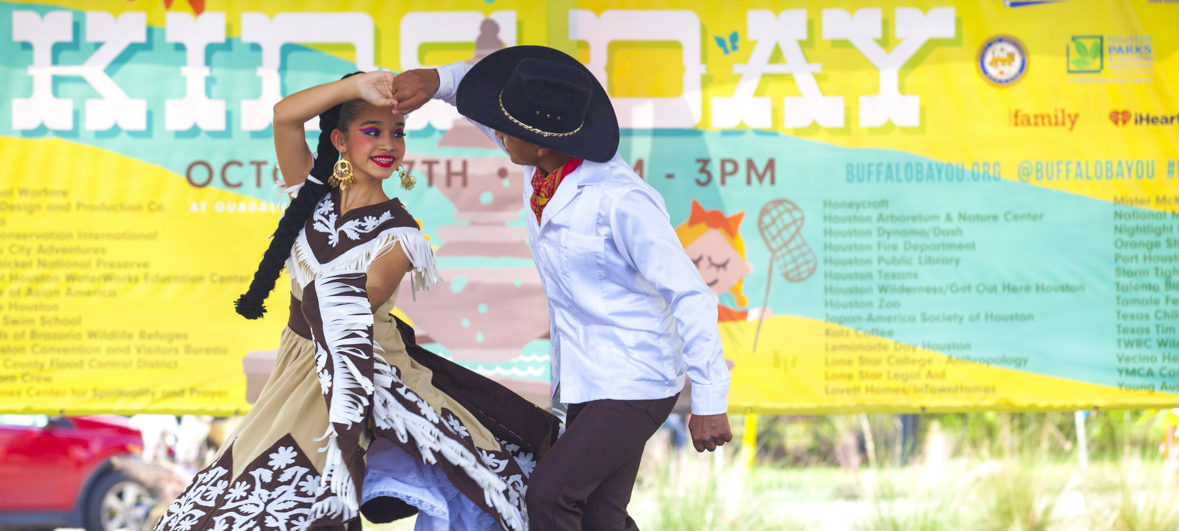 2021 KBR Kids Day
11–3pm
New location this year!
KBR Kids Day is one of Buffalo Bayou Partnership's (BBP) signature events, with thousands of children and their families in attendance each year. Join us on October 23 for free family fun at the 14th annual KBR Kids Day at Tony Marron Park. Activity stations will include numerous hands-on activities from over 20 Houston partners, local entertainment, and performances on the H-E-B stage, Dia de los Muertos face painters, balloon artists, a rock climbing wall, and so much more! Costumes encouraged!
Additionally, we will also have a birds of prey show and a Halloween Costume Parade.
Food and drinks will be available for purchase. Free parking and shuttle service are provided to and from the event at 65 Hirsch Rd. (South of Clinton Dr.).
Performance Schedule
11:00am   Infused Performing Arts
11:45am   Birds of Prey Show presented by Friends of Brazoria Wildlife Refuges
12:00pm   The Donington Quartet
12:30pm   Break Free Hip-Hop School
1:00pm     Costume Parade led by H-E-B's Buddy and dancing with One Up
1:30pm     Ballet Folklorico (MECA)
2:00pm     Birds of Prey Show presented by Friends of Brazoria Wildlife Refuges
Thank you to our partners:
All Star Clowns
Archaeology Now
Barrio Dogs
Big Thicket National Preserve – National Park Service
Catholic Charities
Children's Museum of Houston
CoHousing Houston, LLC
Community Family Centers
Dorrington Quartet presented by the Lisle Violin Shop
Friends of Anahuac Refuge
Friends of Brazoria Wildlife Refuges
Harris County Flood Control District
Harris County Master Gardeners – Texas A&M AgriLife Extension
Harris County Public Health
Harris County Resources for Children and Adults
Houston Area Bat Team
Houston Ballet
Houston Fire Department
Houston Public Library – downtown Houston
Houston Public Library – Flores Neighborhood Library
Houston Public Library – Stanaker Neighborhood Library
Houston Texans
MECA
Mad About Hoops
Nameless Sound
NewSpring
Safe Kids Greater Houston/Texas Children's Hospital
SPLASH (Stopping Plastics and Litter Along Shorelines)
Texas Tim Webb
Twist It Up
U.S. Army Corps of Engineers
Young Audiences of Houston